Head Boy & Head Girl Welcome
Hello! I am your Head Girl, Isabella, and I am a Year 13 student studying Art, Biology, Chemistry and English Literature A-Level.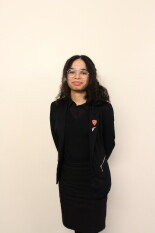 Since Year 7, I have felt appreciated and welcomed by those around me in the community. The staff (and even the students) here have always been helpful and supportive, and I'm sure that many others would say the same! Our academy's ethos is to bring out the best in ourselves whilst also being kind and considerate to others, and I can wholeheartedly say that the academy wants nothing but happiness and success for you. I have felt this through the bonds I have made, and I am incredibly glad to have stayed here for Sixth Form.
Over the past few years, the range of subjects has grown wider and there are countless opportunities for you to find what things you love. Groups like our CAFOD Team, the School Council, and so much more have become even more active and determined to help take care of and lead our community, inspiring all of those around them! For example, myself and many others in my year group were a part of the School Prefects when we were in Year 10-11, and it was roles like those that helped us become more confident and learn about the responsibilities that come with leadership.
To put it simply, The Palmer Catholic Academy has helped shape me as a person and realise who I wanted to be. Our school is ambitious, considerate, and welcoming, and truly inspires you to thrive!
Isabella Nelson-Martinez
Head Girl 2021-22
My name is Moses Otwili, I have studied at The Palmer Catholic Academy since Year 7 and I am honoured to have been appointed as head boy.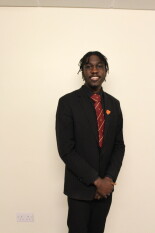 I am currently studying English Literature, Sociology, and Geography. After Sixth Form, I hope to continue my studies in English Literature at university.
Having attended the academy from Year 7, its welcoming environment is what motivated me to remain as a student in our Sixth Form. This atmosphere that has been upheld by both teachers and students, allows our diverse group of students to feel comfortable in the knowledge that there is always someone to reach out to for support - be it a member of staff or one of their peers.
Our academy aims to promote the growth of every single one of its students, no matter their challenges. I have received great support in my own personal journey which has, as a result, helped me develop as an individual. This chance for growth is facilitated by the many opportunities our academy has open to us. I have found that the non academic opportunities for responsibility have greatly impacted my development as a student as well as an individual. These responsibilities have included being a prefect, and other roles such as being involved in small peer mentoring projects.
The support of the academy's mentoring department has proved very beneficial to me and the same can be said for many students across the academy. Through this department, I have been opened up to getting involved in attending community sessions at Box Up Crime. I have taken on responsibility of volunteering for the organisation, by helping lead community boxing sessions for young people. It is opportunities like this that the academy has offered that have helped increase my confidence, especially when taking on leadership roles.
The opportunities our academy provides, alongside its supportive and welcoming environment has shaped me into the person I am today. A large part of my personal growth is a result of my experiences at the academy. Having had such an experience, I can honestly say that anyone that attends the academy, in both the secondary school and Sixth Form, has the same opportunities for growth in whatever area they endeavour to progress in.
Moses Otwili
Head Boy 2021-22