History of The Academy
Our school opened in 1961 as Canon Palmer Catholic School.  The opening of the school was an exciting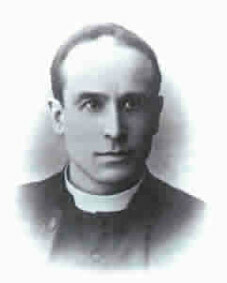 time, as it was the first Roman Catholic secondary school in the area. The opening ceremony was performed by the Rt. Rev. George Andrew Beck, Bishop of Salford. 
The site of the academy was previously a farm, Aldborough Nursery Garden. It was not the only piece of local farmland in the area, Ley Street Farm, Downshall Farm, Seven Kings Farm and Primrose Farm were all nearby.
Canon Patrick Palmer, the priest who gave his name to our Academy, spent 50 years between 1896 and 1946 helping transform the Catholic faith and churches in Ilford.
Canon Palmer was born in Ireland 1848 and moved to Ilford in 1869.  He died in 1948 and is buried in St Patrick's Cemetery in Leytonstone.
He was responsible for the building of the first permanent church on Ilford High Road in 1899 and later next to it the Guildhall Catholic club in 1925. He was also responsible for the building of the churches in Manor Park and Barkingside.
Canon Palmer recognised the importance of the education of Catholic children and built the first Catholic school in Ilford on the High Street opening in 1900, later followed by St Winefride's school in Manor Park.
In 1940 he obtained a site for a secondary school in Seven Kings and the Cameron Road site was bought for £11,000.  13 years later, our school opened.
The first headmaster of the school was Mr Murphy, followed seven years later by Mr Davis.  Mr O'Donnell took over from 1986 to 1992. In 2001 Mr Maguire became headmaster overseeing the transition from Canon Palmer Catholic School to The Palmer Catholic Academy.  
On Mr Maguire's retirement in September 2015, the academy gained its first female headteacher when Mrs Moise-Dixon began her leadership.  Mr Downey, a former student began his headship from 1st January 2019. 
When the school first opened, there was a two-form entry of about three hundred children, many of whom had previously attended SS Peter and Paul's primary school. Later this was expanded to a three-form entry with a total of five hundred students. We currently have 1200 students on roll.
The original building, now known as Palmer block was small and limited with specialist and practical facilities.  The 1960s architecture features two large crucifixes to portray the school's identity and allegiance with the Church.
This was followed by Heenan and Kolbe buildings. More recent developments include the building of Mother Teresa Sixth Form Centre as well as Bede House.